QForm at Confederation of British Metalforming event on 29th of July in the UK

Event flier
Event: Forging technology elements that determine final part quality and die life
Date: Wednesday 29 June 2016, 9.30 – 16.30, National Metalforming Centre, UK
We invite you to join us for a one day event to launch CBM's ambition of supporting forging members gain a competitive advantage through process technology. A combined day where we pull together the influencers on product quality and die-life, giving examples of latest achievements in lubrication, die material and in-press measurements together with practical demonstrations of how simulation software can identify problems in the product and die before you touch any metal.
Included:

Overview of main reasons of premature die failure (brittle and thermal cracks, low cycle fatigue, abrasive wear).
Forging technology analysis based on material flow simulation with prediction of die stress, temperature and deflection.
Use of simulation to extend die life.
Speakers from experienced suppliers.
This is a free to attend event but registration is essential. Lunch and refreshments will be provided.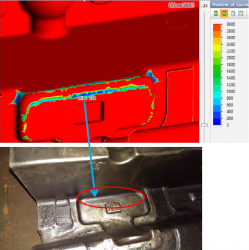 Predicting of a low cycle fatigue crack in the die after hot forging of 284 parts that is close to practical observation.