Forging Symposium 2017 in Seoul, Korea
Forging Symposium 2017 took place on 15 June 2017 in Seoul, Korea.
Mr. Soontak Kho (Senior Managing Director of CAE Technology Inc., QForm distributor in Korea) made a presentation «Newest Technology of Forging Simulation Software» within the event. Participants discussed QForm new version features and possibilities as well as metal forming simulation software in general.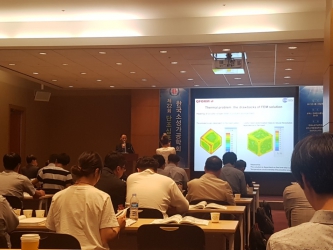 Mr. Soontak Kho (CAE Technology Inc.) with his presentation of QForm VX