QForm UK Forum. Dubai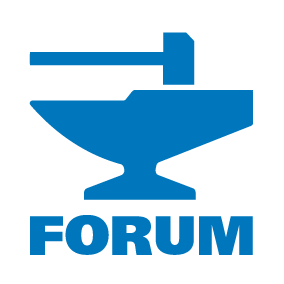 Latest developments in simulation
of metal forming processes
DATE: 24-27 October 2023
PLACE: Radisson Blu Hotel, Dubai Waterfront, Dubai, United Arab Emirates


We are glad to invite you to participate in the international Forum dedicated to the latest developments in the simulation of metal forming processes using QForm UK software. The event will be held 24-27 October 2023 in Dubai, at Radisson Blu Hotel, Dubai Waterfront. During the Forum, we will demonstrate a new version of our program with dozens of new capabilities. Representatives of research institutes and manufacturing companies will share their experience in working with QForm software for the development and improvement of technological processes.


Preliminary program
24 October, Tuesday. Check in day
25 October, Wednesday. General Session

10:00

Complimentary speech
Dr. Nikolay Biba, Director, Micas Simulations Ltd., QForm Group
Dr. Sergey Stebunov, Director, QForm Group FZ

10:20

QForm 11 new version capabilities

11:00

Material flow optimization and defects analysis

11:30

Tool simulation and boundary conditions. Extending tools life

12:00

Optimal project settings for simulation

12:30

LUNCH

13:30

API

14:00

Forging simulations + Direct preforming designer

14:30

Rolling simulations + Kaliber roll pass designer

Longitudinal rolling, Ring rolling, Cross rolling

15:00

Extrusion simulations + Die designer

15:30

QForm for academic purposes + Olympiad + Cloud licenses

19:00

JOINT DINNER
26 October, Thursday. Day of sections, 10:00-16:00
General metal forming processes section.

Forging design, Sheet forming, Microstructure, Heat treatment

Rolling processes section.

Longitudinal rolling, Ring rolling, Cross rolling

Aluminium profile extrusion section.

Extrusion design, Heat treatment, Die life, Quality of profiles
16:30 SIGHTSEENIG TOUR AT THE TOP
27 October, Friday. Day of master classes, 10:00-14:00
General metal forming processes master class.

Rolling processes master class.

Aluminium profile extrusion master class.
14:30 TOUR SUPER FAST RIDES AND ATTRACTIONS in ABU DHABI
Place: Radisson Blu Hotel, Dubai Waterfront, P.O.Box 16021, Business Bay, Dubai, United Arab Emirates
Cost of participation:
Free participation is proposed for speakers

350 EURO

for participants

250 EURO for students

200 EURO for accompanying persons (accompanying persons can participate in evening events and tours)

Subscribe to our Telegram channel and Facebook to get €100 discount!

Recommendation:
For more effective participation in the Forum, please, bring your laptop with you to be able to simulate interesting projects in new QForm during the event and get key simulation skills.
Contacts: [email protected]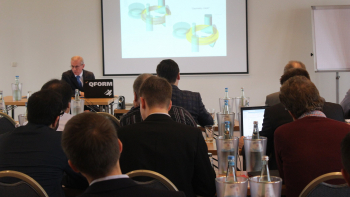 QForm Forum 2017. Sergei Stebunov with presentation «Industrial implementation of ring and wheel rolling simulation»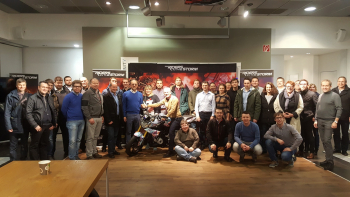 QForm Forum 2017 participants
QForm Forum. Berlin 2019. Some experimental results about common defects affecting productivity in extrusion process: Seam welds, Charge evolution, Billet skin, Prof. Luca Tomesani, University of Bologna, Department of Industrial Engineering, Italy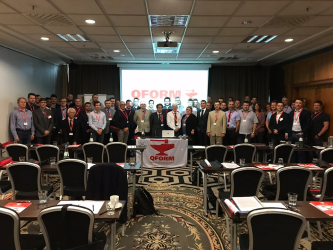 QForm Forum Berlin participants, 2019