QForm VX was presented at ET'16 conference in USA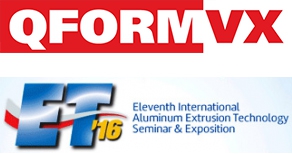 QuantorForm Ltd., Micas Simulations Ltd. and Forge Technology Inc. presented a new software for profile extrusion simulation and optimization QForm VX at the 11th International Aluminum Extrusion Technology Seminar & Exposition on May 2-6, 2016 in Chicago, Illinois USA.
ET '16, the «Eleventh International Aluminum Extrusion Technology Seminar and Exposition» is the biggest event in the field of extrusion technology and it only happens once every four years. This year it was in Chicago on May 3-6. Hundreds of participants attended the event. We were selected to present our paper at the session dedicated to the theory of extrusion technology while other sessions were on die design practice, equipment, materials, finishing etc.
Our paper title was «Automated Extrusion Die Design Integrated with Simulation» and it presented the novel approach of concurrent development and verification of the dies based on simulation. Using this new method, we virtually eliminate the necessity of corrections of manufactured dies because all the modifications are done during the design phase before the dies are actually produced. The die design is done with our program QExDD while the simulation is performed by QForm VX.
ET'16 also included a large exhibition hall where we had a stand in collaboration with Forge Technology, Inc. at a highly visible location at the end of the main aisle. Our stand was very popular because many participants and visitors stopped at it and asked about our software and its practical implementation. Many of our existing customers from around the world stopped by and expressed their satisfaction and also recommended our software to newcomers at the booth. The users also gave us some excellent feedback about practical implementation of the software and told us what else they would like to see from it.
In general, we are very happy with the results of ET'16 where besides presenting our paper and our recent developments, we have learned the latest news about extrusion technology.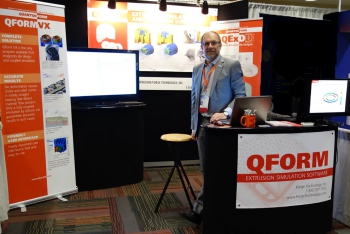 Nick Biba, Micas Simulations Ltd., at our ET'16 boothQForm VX is the only program available that integrates die design and simulation.

The new QForm VX extrusion simulation program builds on the unique architecture, data structure and interface its popular predecessor, QForm V8 metal forming simulation software. The new program introduces novel simulation methods that achieve the best performance and accuracy in the industry. QForm VX, combined with our QExDD program, provide quick and easy die design integrated seamlessly with simulation.

Find more about QForm VX