QForm at Forgetech 2016 in Gurgaon, India
1st AIFI Biennial Conference, Forgetech India 2016 took place on 3-4 December, 2016 at Hyatt Regency, Gurgaon, India.
The event witnessed participation from 44 exhibiting companies across India, China, Japan, South Korea, Belgium, Italy, Germany and Switzerland and footfall of 590 delegates. The primary goal of this conference was to bring together the Indian forging fraternity under one roof to discuss the challenges facing the industry as a whole and to facilitate exchange of ideas to develop possible strategies as to how the Indian forging industry could expand further.
QForm development partner Olga Bylya (Advanced Forming Research Centre, UK) made a report «Modelling of the Transformation of Coarse Grained Microstructure of a+b Titanium Alloys Along with FEM Simulation of Hot Forming Processes», research was made with use of QForm metal forming simulation software.
During the event QForm software was presented to visitors by Ivan Lishniy (QFX Simulation Ltd. manager) and Manish Garg (QForm representative in India Digital Design Solutions). We also carried out a prize draw between event visitors: winners received QForm VX licenses and other prizes, every lottery participant was gifted with QForm VX Cloud version for 100 calculation hours.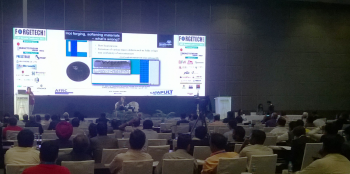 Olga Bylya making a report «Modelling of the Transformation of Coarse Grained Microstructure of a+b Titanium Alloys Along with FEM Simulation of Hot Forming Processes»