QForm Extrusion at ICEB 2017 & Aluminium Two Thousand Congress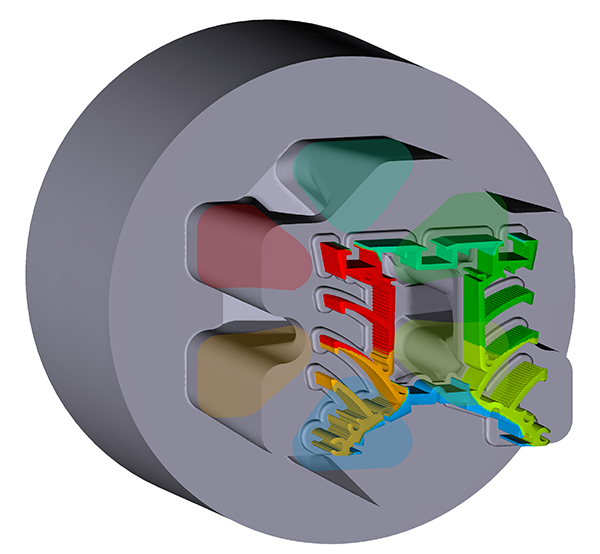 New version of QForm Extrusion will be shown at the International Conference on Extrusion and Benchmark (ICEB). The aim of the conference is to join together technical and scientific experts for the discussion of future developments in the field of extrusion and the numerical simulation.

QForm Extrusion is the only program in the market that can perform simulations of material flow that is thermally and mechanically coupled to the die deformation even for very complicated thin walled profiles.
Some of the new features and improvements of QForm Extrusion that will be presented during the conference:
Even more advanced coupled simulation task
Extended diagnostics during simulation
Comprehensive information about the process characteristics in the Simulation state tab
New velocity deviation field
Also, during the event we will present our
QForm Extrusion Die Designer (QExDD)
– system for automated 3D design of die sets for profile extrusion.
Nikolay Biba (Micas Simulations Ltd., UK) will open the Conference at «Extrusion Process Simulation» section on 20 June in «ROOM VERDI» at 11:00 with paper «Quality Prediction and Improvement of Extruded Profiles by Means of Simulation»
Stas Kanevskiy, QForm business development manager:
«I will attend the ICEB 2017 and will be glad to meet you to answer any your questions and to talk over QForm software. Across any questions, please, contact me at stas@qform3d.com or by phone +7 (916) 488 11 44»
Extrusion Benchmark session and its simulation results showing will be held on Wednesday, 21 June 2017 at 9:00 - 12:00 in «ROOM VERDI».