Aluminium 2000 and 7th ICEB
The 12th Aluminium Two Thousand World Congress together with the 7th ICEB (International Conference on Extrusion and Benchmark) was held from 19 to 23 September 2023 at Royal Hotel Carlton, Bologna, Italy. Dr Nikolay Biba, Director of Micas Simulations Limited, participated in this remarkable event.
Since 2007, QFORM has participated in all ICEB conferences, during which Benchmark extrusion tests are held. Three other participants have performed the test this year together with Micas Simulations Limited.
What are the Benchmark tests?
The test organiser was, as usual, Bologna University, who arranged a production experiment at one of the extrusion companies and made all measurements. Then, after submitting the simulation results by the participants, they compared simulated and measured process parameters and prepared the comparative report.
Participating in Benchmark tests throughout its history helped us significantly improve our computational algorithms for extrusion simulation. We are proud to present some comparisons of our simulation results with experiment data. More information and results presented by all the participants can be found on the web-site of the conference.
Experiment
Simulation QForm UK
Accuracy, %
Load max, MN
36,1
36,6
99%
Profile velocity ranking

1 – intermediate
2 – fastest
3 – slowest

1 – intermediate
2 – fastest
3 – slowest
100%
Charge weld 18%, mm

900

956
94%
Charge weld 56%, mm

1100

1128
97%
Charge weld 96%, mm
2000
1973
99%
Average fibrous grain size min, μm
5
5,3
94%
Average fibrous grain size max, μm
30
31,9
94%
Welding quality ranking

1 – intermediate
2 – worst
3 – best

1 – intermediate
2 – worst
3 – best
100%
Tool temperature at thermocouple min, °C

300

310
97%
Tool temperature at thermocouple max, °C

489

498
98%
We are pleased to note the high accuracy of our extrusion simulation results, thanks to our research work, regular participation in scientific conferences and active development and improvement of our software.
Our article was submitted for publication in the Scientific Journal (Materials Today: Proceedings by Elsevier) or in Conference Proceedings (with ISBN) and will appear on our website.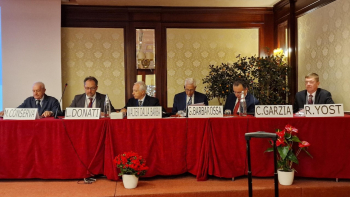 Сonference organizers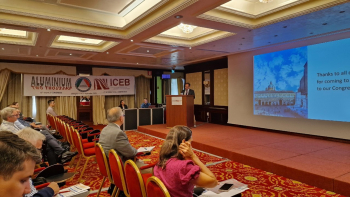 Prof. Lorenzo Donati, University of Bologna, Italy
Ivan Kniazkin presents the test results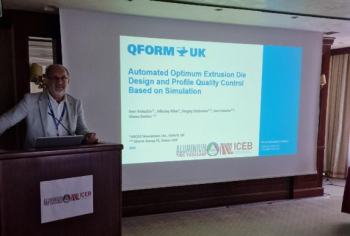 Dr Nikolay Biba, Director of Micas Simulations Limited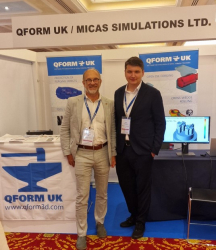 Dr Nikolay Biba, Director of Micas Simulations Limited, and Ivan Kniazkin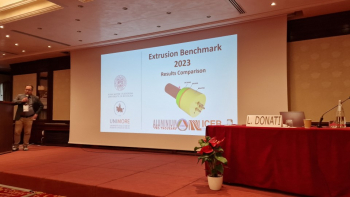 Prof. Lorenzo Donati, University of Bologna, Italy