New version of QForm VX has been released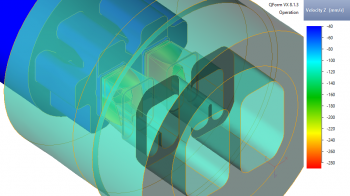 Simulation in QForm of multiprofile extrusion technology. Profile velocity along extrusion direction
New version of QForm VX 8.1.3 has been released. This version is the next step of development of QForm VX software which was presented at ET '16 conference in the USA.
Most of the improvements in the new version of QForm VX are focused on the profile extrusion simulation module. New features of this release include:
Coupled simulation of material flow and die deformation
Simulation of whole billet length extrusion
Specific interface for extrusion simulation
Tracking points through container to the extruded profile
Simulation of longitudinal welding seams (in workpiece fields)
Simulation of transverse welding seams (in workpiece fields)
Improved model for calculation of temperature in the die. The temperature is calculated at every step of tool simulation
Temperature calculation now takes upsetting and die filling into account
No SHL format for extrusion anymore. Now only QSHAPE format is used for geometry import
Improved mesh density control in the volume
Completely new deformed material rheology models
Completely new tool material rheology models
Interface for setting of die holder, bolster, case and pressure ring temperatures
Simple interface for indirect extrusion simulation
An option to specify upset velocity has been added
New graph for transversal seam weld propagation analysis, i.e the new material share versus the distance from the stop-mark
Calculation of user subroutines in tracked points
Velocity gradients tensor was added to parameters of user defined subroutines
Palettes of temperature and Z-velocity fields scales can be toggled
QForm VX 8.1.3 version obtained a new standard database of billet materials for extrusion simulation. Each of them is a representation of Hensel-Spittel formula to consider properties of material for all possible extrusion conditions. New calculation algorithms together with more accurate material models significantly increase the accuracy of metal flow prediction.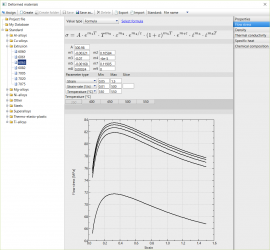 New standard database of billet materials for extrusion simulation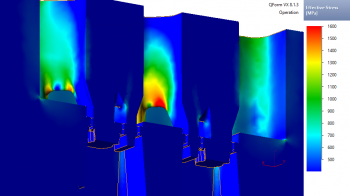 Effective stress field in die set. Simulation if QForm